Brian Jung Photography
Wedding photographer :: Dorchester
Brian Jung - award-winning wedding & portrait photographer -
covering Weymouth, Dorchester, Bridport, the surrounding Dorset area ... and beyond
About me and my work as a wedding photographer, based near Dorchester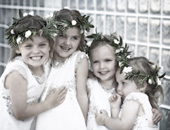 My style of wedding photography will capture the atmosphere of the day, with my relaxed manner putting everyone at ease throughout the wedding. I use both formal and informal shots to capture the mood of your wedding day and to reflect the personalities of the bride and groom, using natural light wherever possible. Formal shots can be taken quickly and then I will continue to work unobtrusively, recording you both with close family and friends enjoying this special time together.
There will be a large number of wedding photographs from which to choose. Any of the images can be produced in colour, black & white or sepia. If you wish on the day you can choose a favourite location nearby, where you can have some special photography taken - such as along a beach or in the countyside. Click here to look at a sample album of all the photographs from one wedding.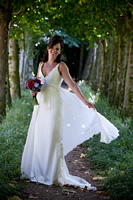 I am based near Dorchester and have photographed many weddings in this beautiful area of West Dorset.
Taking photographs around the Dorchester area, as an informal and contemporary wedding and portrait photographer, I have photographed in these locations: Kingston Maurward, Athelhampton House, Wessex Royale Hotel, Yalbury Cottage, and the Kings Arms Hotel.
I have also had the pleasure to photograph weddings at many wedding venues just outside Dorchester, including: Minterne House at Minterne Magna, Cerne Abbas, Manor Hotel West Bexington, The Grange at Oborne, Birkin House, Chantmarle Manor, Milton Abbey and Summer Lodge Hotel at Evershot.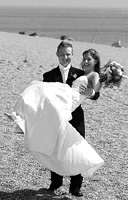 All venues have their advantages and disadvantages - from a photographic viewpoint - which I'll discuss with you, so that we can arrive at the perfect shoot for your special day!
The Dorset countryside changes so much with the seasons and will make a wonderful backdrop for your wedding day, whatever the time of year.
At the end of the day, I'm after the best images possible of your wedding, which has led to me winning many awards, being the first photographer to win the 'Celebration of Excellence award' for Photographer of the Year for Newsquest, and Kodak and Fuji wedding and portrait awards as well.
Whether it be wedding, portrait or landscape photography, I have a passion for my work - something I believe is vitally important when covering life-changing moments. I'm not someone just doing my job - I'm doing something that impassions me, and is constantly driving me to new levels of understanding and toward better and better images.
Please take a look at my main wedding page, where you can see many more images and read more about my approach to wedding photography.
If you have any questions about wedding photography, just to email me, or ring me on 01305 821432
I look forward to hearing from you,
Brian